Setup Your WordPress Site
At this stage of building your business, you should have your business name and actual business formation completed along with your domain name(s) purchased. You should be ready to set up your hosting and install WordPress. Have your business information, credit card, and personal information ready.
The actual WordPress setup time is about 5 minutes with Bluehost, but after it is setup, there are some other tasks to complete. Think of the WordPress installation stage as the site preparation, pouring the concrete foundation and setting the footings. This will be the foundation of your business.
Just click the image to go setup your Bluehost Hosting Account:
Once you have entered a domain name, you will fill in your personal information.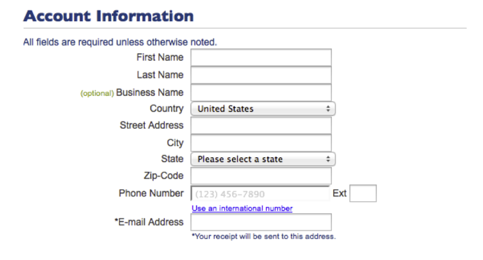 Next you decide which hosting package is right for you. To start out, I would recommend a normal shared hosting account. It is priced at 12, 24, and 36-month terms. The longer term you purchase, the lower the monthly rate is. For example, by choosing a 36-month hosting term, you can get the great introductory rate of $3.95 a month. As a bonus for choosing Bluehost, they provide seamless upgrades to VPS or Dedicated hosting accounts from right inside your cPanel as your needs grow!
Like with most companies when you are first signing up, they do have a few other offers for you to consider. One thing that you might want is Domain Privacy so that your information about site ownership will remain private.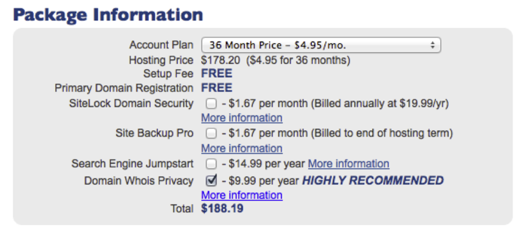 As the example shows, after you fill in all of your information and double-check to make sure it's accurate, click "Next" to complete your purchase. Now you will be asked to create a password for your account. Next, create a strong password and keep it in a safe place. You can use the Password Generator, or create one yourself. Make sure the password has both capital and lowercase letters, a number, and a special character (?!#, etc.).
Now that your account is created, we can move on to installing WordPress.
Installing WordPress
Don't be nervous, Bluehost has made this an easy step. They use the new MOJO Marketplace for installing WordPress (and other applications).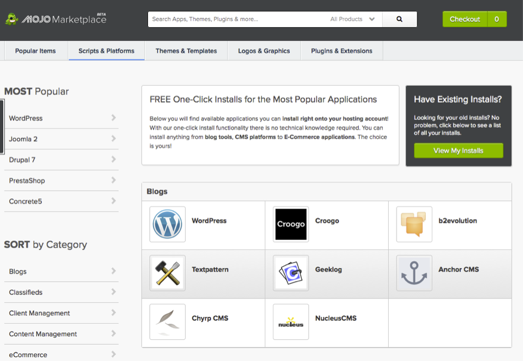 Are you ready for a "One-Click" installation? In your cPanel, scroll to the section titled "MOJO Marketplace" and choose the icon One-Click Installs.
You will now be on a page inside MOJO Marketplace called Scripts and Platforms. The blog section is at the very top, so all you have to do here is click on the WordPress icon.
This will open the installation window. Click on Start a brand new installation. This is going to start the WordPress installation process, which has a few easy steps: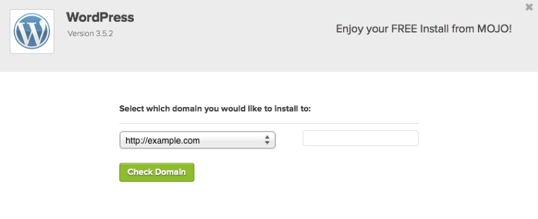 1. Choose where you want to install WordPress. If you purchased more than one domain, I would choose the ".com" version. You can, however, choose any domain or even a subdomain or a folder for one of your domains. You have complete control. If you already had a Bluehost account when coming here to set up your Residual Income Model, make sure to not overwrite any files for another website. Next, click on "Check Domain" to make sure the domain is assigned and pointing towards your account.
2. Go to Advanced Options. This area allows you to setup your own username and password for your WordPress installation. Make sure you use a unique username;  DO NOT USE "Admin" which is a default option! Make sure that the "Automatically Create a new database for this installation" box is checked, unless you have a database that you have already setup and want to use for your Residual Income Business.
3. Read the Terms and Conditions; make sure to check the box that asks if you have read the terms and conditions. Next, click "Install Now."
You will be able to watch the installation progress on the progress page. Once the installation has completed, you will be provided with your Site URL, the admin login URL, your username, and password. KEEP ALL OF THIS INFORMATION SAFE, you will need it.  The information will also be emailed to you.
Bookmark and save your Admin URL. Now you can log in to your account. Enter your username and password that you selected and then click "Log In." As you enter your new WordPress site, you will see your dashboard. This is where you control everything for your site.
I remember how I felt when I set up my first WordPress site many years ago. It was exciting yet overwhelming. For now, just poke around your dashboard and see what tools and options you have. Get some rest, next we tackle Part 2 of setting up your WordPress site.
FINAL THOUGHTS
Rest assured that you have made some great strides already. You have chosen a solid reputable hosting service and the best blogging platform. You have your business set up properly and you've created an awesome business and domain name. What a fantastic start!
Never rush serious decisions when setting up your business. Do it right the first time. It's okay to make mistakes or change your mind, just make sure that these are minor mistakes or changes. You won't regret taking the time to do it right.
P.S.  Please be aware that any affiliate links mentioned in this post are mine and I will make a commission from any products that you purchase.
If you have set up a WordPress site before or purchased domain names, share your experiences by commenting below. Have some suggestions or tips that I may have missed? I appreciate hearing from you.
As always, wishing you prosperity and online success,
Deborah's journey began with a focus on real estate. She was a mortgage broker, lender, real estate investor, personal and business credit expert, author, REALTOR® and a nationwide investor consultant. Along the way, she assisted her clients with their video productions, scripting, PR, marketing and web design, and just about anything that had to do with Branding and Marketing. Deborah now focuses on what she loves most; her creative side. She now focuses on her Fine Art Photography, Painting, and Writing while enjoying life in the Sonoran Desert. Follow Deborah on Social Media (Social Media links in the right sidebar).